Kal Chekku Oil In Chennai
Nowadays, the latest generation has forgotten all about traditional oils' health benefits like Kal Chekku oil. Most importantly, it is because they have stopped using it due to the refined oil marketing strategies. In today's era, where each individual wants to be aware of what they are eating and putting inside their body, the Kal Chekku oil's necessity has increased.
High-Quality Kal Chekku Oil
We are the premium producers of Kal Chekku oil that is dense where each nutrient is kept intact. Do you know that the Kal Chekku oil is mentioned in the Sangam literature? It is considered a great healing agent for wounds.
Similarly, our Chekku oil has got some of the best healing power as it is manufactured using traditional methods. Our oil will absorb the heat and maintain the atmospheric temperature during the oil extraction. The cold-pressure oil made by us is filled with rich nutrients and health benefits that have been enjoyed by our ancestors for many years.
Chennai
100% guarantee
at lowest price
no questions asked
History Of Kal Chekku Oil
For more than 50 years, Kal Chekku oil was commonly used by various families in South India. The method of producing this oil was simple. The oilseed would be placed in a stone(Ural), and it would be grounded with a pestle.
Here there aren't any applications and generation of heat. The residue from the process is used as fodder for cattle. Not only was it time-consuming, but around 10 to 20 liters of oil were produced each day.
The Chekku machine used in the traditional times involved in extracting oil from the seed. Suppose you check some of the South Asian countries like Sri Lanka and India. In that case, they have old temples that depict the Chekku machine's usage for extracting oil.
In the olden days, technology was highly efficient and advanced. They used animals like cows and buffalo for grinding the oil seeds. Since animals like bullocks, horses, and donkeys were trained for transportation and loading, it was not difficult to train animals to get the grinding process of Chekku oil. So, no doubt, it was a man-free task.
Following The Smart Ways Of Our Ancestors
In the old age, they used the bull for operating the Kal Chekku machine. There is a good option for selecting horses for these tasks, but they weren't used even though the task could be completed faster.
So, do you think they haven't thought of it? Well, these people were much smarter than most of us. They know that such an oil grinding machine must not be fast, but it has to be efficient.
When the grinding machine goes faster, the rotational speed will make the seed and oil get heated fast, and the nutrients will get dried up and lost. But using the ox or cow, the rotational speed would be very slow and somewhere around 9-12 rounds each minute.
So, the seed and oil won't get much heated up at this speed, and you end up with healthy oil and nutrients.
As one of the primary Kal Chekku oil suppliers, we follow this method and ensure that good quality oil is produced.
Kal Chekku Oil Process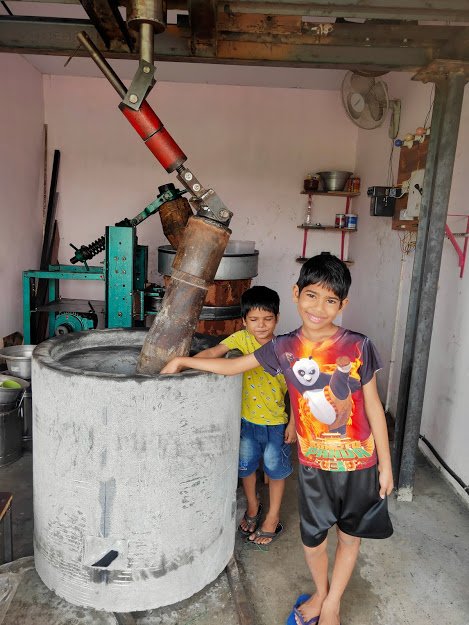 We Employ Latest Research Technology & Company
In the ancient days, the Chekku oil machines were developed using heavy rock bottoms having a blind hole, and there would be a heavy wooden rod that would lock the cow in such a manner that it would rotate at rotational direction without any deviation.
Some people use the Chekku machine that is different in the rotator motion. Here the rotator Chekku is created up of iron drums, and there would be iron rods, and these would be rotated in high rpm, making the oil gets heated up to around 100 Celsius along with losing nutrients that are created by itself.
The best tech solution that we follow is somewhat related to the traditional method of using modern technology and the combined ancient method.
The Mara Chekku somewhat plays a major role, especially when there is a wooden structure present right at the bottom and the wooden rod right in
the top along with the geared of the speed that controls the speed in less than ten rounds each minute and it will make 100% of the nutrients to get retained just like how the seed has.
Sometimes certain people would be using the Chekku that has a stone at the bottom, and this was called Kal Chekku. One important thing to note down is that both the Kal Chekku and mara Chekku have different applications that would provide the best oil for day-to-day food usage.
Here in both of the machines, the rotation controllers would ensure that the aroma and nutrients get retained. We always use the technology of the Kal Chekku and mara Chekku to provide the best oil for you and your family.
4.9
of 5
 4.7/5
4.8/5
1860 Reviews
4.6/5
1630 Reviews
4.7/5
2100 Reviews
Modern Method We Follow
If you check, the modern method of oil extraction we follow consists of supplying the heat right at the various stages, right from crushing the nuts to the final extraction. For making the oil look attractive, the gum, which s a thick layer created on the oil, and then it is refined further using acetic acid, bleaching soda, and hexane. Sometimes we do and follow a double-refining procedure. The best part is that the Chekku oil we produce is free from cholesterol and contains many nutrients.
Usage And Capacity Of Our Kal Chekku Machine
If you check a premium, the Kal Chekku machine can carry around 15kg of seeds at once. Plus, they can extract around 5 liters of oil from it. Here, the seed's oil yield would go up to around 5.75 liters from seed as per its quality. The remaining Kal Chekku seed cake would be used to feed cows and be used for farming.
When we produce the Chekku oil, we use the oil forming tech, and that too within the permissible temperature, which might be suitable for the granted oil spilling seed or nuts. Such a procedure is operational using a motor, and it would use less power.
Furthermore, these are created for bearing high temperature, pressure, and other major safety factors. Also, this would work in a hassle-free way. Our machines that are used are user-friendly to use and are safe.
Contact Us For Fresh & High-Quality Kal Chekku Oil
People in South India, especially Tamilnadu and Kerala, are hardcore fans of the traditional lifestyle and happily follow it. So, such huge populations like to have good Kal Chekku oil for their day-to-day needs.
If you want to know more about our Kal Chekku made oil, contact us.