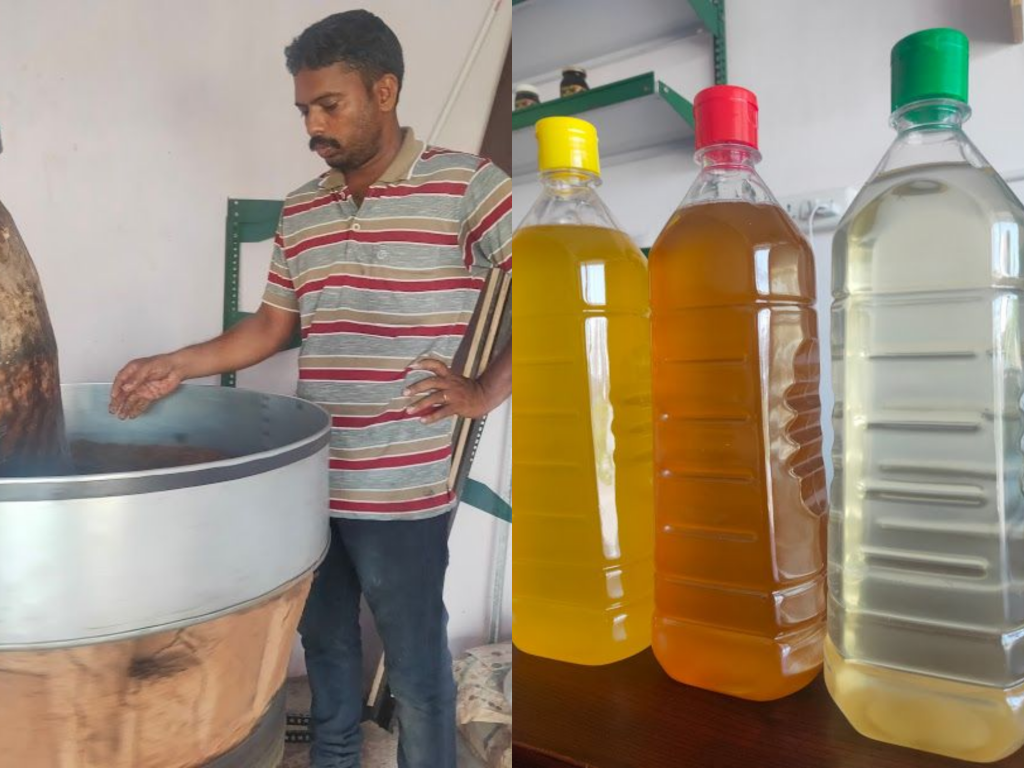 Free Home delivery Call 9749879749.

Delivery available in Tamilnadu,Andhra,Kerala and Karanataka
Paatikadai's Cold Press Marachekku oil and Kal Chekku Oil
50 Years back, people used to visit oil stores with an empty container to purchase Cold Pressed Oil in retail. Cold Pressed Oil is originally manufactured in traditional way by extracting oil from seeds using wood crusher, made of East Indian Walnut (known as Vaagai Maram in Tamil) which is pressed with a very heavy stone that is wheeled by bullocks. 
Cold squeezing alludes to oils acquired through squeezing natural products or seeds within a Walnut wood crusher, made in surrounding of nature's own land of Tamil Nadu by Pattikadai's, an old trusted name in natural oils .Cold-squeezed oils hold all their flavor, fragrance, and dietary benefit, making these oils extraordinary for cooking and healthy skin necessities. As well as, gives Vigor, Strength and high immunity for human's adapting it.
Most popularly used Cold Pressed Oils:
One of the best shop in polachery region. Products are brought out directly from farmers who do not use pesticides. Products are neatly packed and delivered at my doorstep. owner provides updates about newly launched and available products through what's app. Fully satisfied..
To many , organic simply means more expensive, but it is in "Pattikadai" with less economy and more healthy.. Thanks for offering a healthy 💯% organic products from Farmers and for supporting them.. Congratulations 🎉🎉 for your "Trade mark
Great concept of direct dealing with farmers for procurement of organic products. Some of the products which i have been using are Ground oil, Gingelly oil, coconut oil, cashew nut, naatusakarai, Ghee. One of my experience i would like share here, my father-in-law was having headache for few days and tried different medicines but the pain was still there, and then he applied gingelly oil, pain was relieved in few minutes.